In place of the typical isolated, single step efforts to improve strategic alignment, chances of sustainable change can be improved by adopting an iterative learning approach. Such an approach consists of a set of cyclic interventions (the 5I cycle) that follow a certain pattern.
Intuiting the issue: The interventions are triggered by a perceived issue or a desire to improve performance. The issue or gap may not yet be clearly articulated, but is sufficient to motivate the change action.
Interpreting the situation: A framework for alignment helps to structure thinking about the issue, to reduce the risk of missing some inter-connected elements and to facilitate communication amongst the participants. The abductive mode of inference is used to develop plausible explanations for the issue by making appropriate changes to the framework.
Identifying the intervention: The most plausible explanation points to one or more possible actions to address the issue. The deductive mode of inference is used to identify potential outcomes when identifying the most intervention most likely to address the issue,
Implementing the intervention: While the intervention is underway, the framework helps contextualise the difference between outcomes expected and the actual outcomes as they materialise. The risk of subjectivity is mitigated using the collaborative approach.
Inferring conclusions: Reflection on the differences between the expected an actual outcomes, through the inductive model of inference, can lead to adjustments to the framework and possibly a re-interpretation of the issue using the abductive mode of inference as above.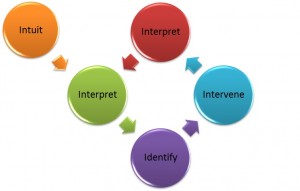 While this process may look like the Plan-Do-Check-Act cycle, the 5I cycle is specifically designed to overcome the difficulties involved in organisational change, is based on an alignment framework and has been validated theoretically and in practice.